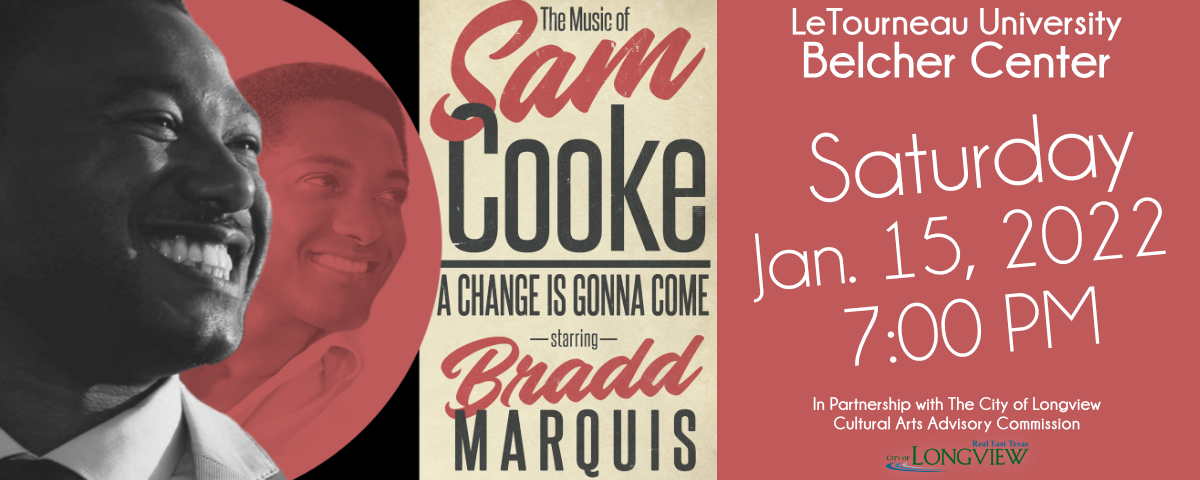 About This Event
Starring Bradd Marquis (alongside a live big band) in a new show depicting the life and music of one of America's most iconic and talented performers, the Legendary Sam Cooke.
Cooke bridged the gap between black and white audiences and crossed generations. He is commonly known as The King of Soul for his distinctive vocal abilities and influence on the modern world of music. This world premiere concert features the greatest hits from the Legend of Soul including You Send Me, Only Sixteen, Cupid, Chain Gang, Twistin' the Night Away, A Change is Gonna Come, and Wonderful World to name a few. 
The City of Longview Cultural Arts Advisory Commission is proud to partner in the MLK Weekend Celebration, "The Music of Sam Cooke: A Change is Gonna Come"
Join us for a pre-show concert in the plaza at 6:15pm with local favorite and band "Covie" and stay for the post-show talk back with Bradd Marquis as he discusses the life and music of Sam Cooke, Martin Luther King Jr., and their role in the Civil Rights movement.