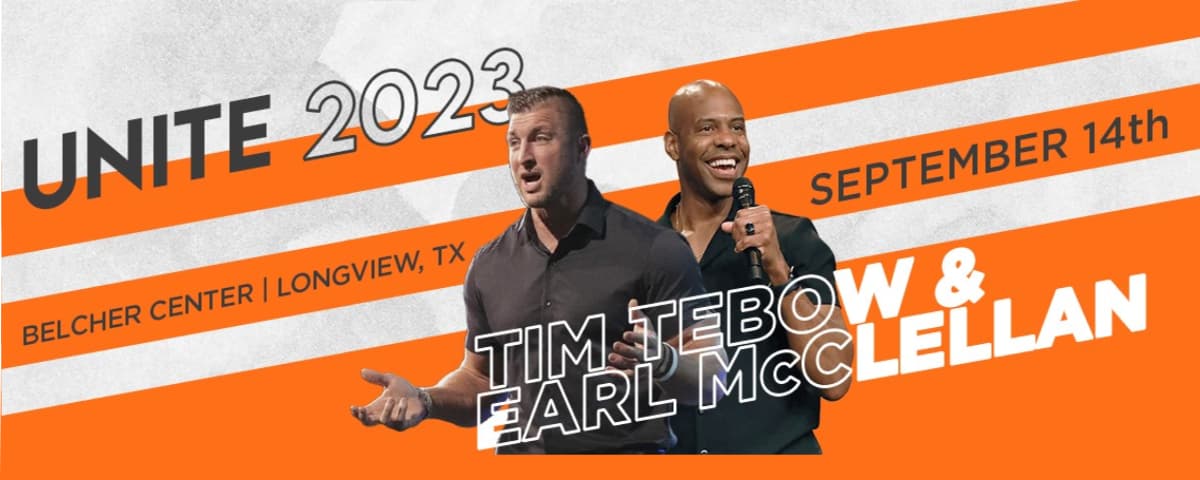 About This Event
Have you ever struggled with momentum and motivation?  We all have had times when it has been difficult to reach the goals we set.  There are challenges outside your control, people's opinions, and obstacles you didn't see coming.  This year's speakers know all about those challenges and how to overcome them.  Tim Tebow and Pastor Earl McClellan will be joining us live and in person at the LeTourneau Belcher Center on September 14, 2023.  Tim will be sharing his personal stories of how he faced challenges, overcame them, motivated others, and impacted his community. Pastor Earl will be sharing about leading your organization well and getting the best out of your leadership style.
Tim Tebow is a two-time national champion, Heisman Trophy winner, first-round NFL draft pick, and a former professional baseball player. The five-time New York Times best-selling author, speaker, and football analyst is most passionate about his work with the Tim Tebow Foundation (TTF), whose mission is to bring faith, hope and love to those needing a brighter day in their darkest hour of need. The Tim Tebow Foundation is currently fighting for people who can't fight for themselves in over 70 countries and counting through 4 primary ministry focuses with 16 initiatives. Tim is married to Demi-Leigh Tebow, a speaker, influencer, entrepreneur, and Miss Universe 2017. Tim and Demi live in Jacksonville, Florida, with their three dogs, Chunk, Kobe, and Paris.
Pastor Earl McClellan is Founder and Lead Pastor of Shoreline City Church based in Dallas, TX with locations emerging around the world. He is a dynamic communicator who is passionate about developing leaders both inside and outside the walls of the local church. Under his leadership and "come as you are" teaching style, Shoreline City has grown from fifteen people to over 4,500 in just seven years. Earl and his wife, Oneka, have three children.
This conference is one you won't want to miss! For more information on the event please visit www.uniteandlead.com.