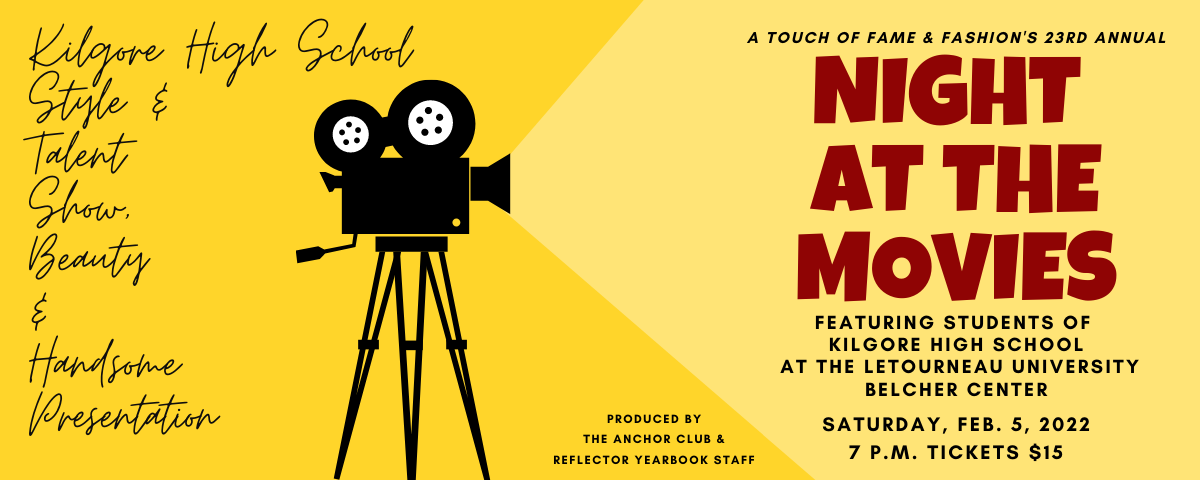 About This Event
The students of Kilgore High School invite you to the 23rd Annual A Touch of Fame & Fashion NIGHT AT THE MOVIES Style & Talent Show on Saturday, February 5, 2022, at 7 p.m. Come to the LeTourneau University Belcher Center to see beauty, handsome, talent, and style on display while we honor students who were selected by their peers to represent them.
Twenty-three years ago KHS Alumni Lindsay Dick was a yearbook staff student at KHS who needed an independent study project. KHS already held the Reflector Beauty Pageant each year since 1965 when Pam Mercer McWilliams and the Reflector yearbook staff created it. Lindsay and her teacher Susan Reinbach, with the help of Alicia Nolte, owner of Cherry Hill in Longview, created the style portion of the pageant, and it was added to the show. These alumni kept the tradition alive by adapting the show to fit their vision and adding more students and talent each year. This show features the students at Kilgore High School, and we think it offers something for everyone!
Come and watch a NIGHT AT THE MOVIES, in KHS style!